In April 2011, in collaboration with illustrator Tim Piotrowski, I started a Kickstarter project to produce freely-available illustrations of Computational Thinking concepts. Thanks to broad support from the CS education community, programmers, and tech-savvy parents, it only took a few days for us to reach our funding goal.
On my teaching blog, And Yet It Moves, I wrote more about the inspiration, goals, and context for the project.
The process of creating the illustrations and text that goes along with them took about 6 months, and the site is now live at ctillustrated.com.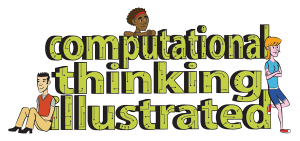 Some of the cartoons appear in the June 2012 Issue of ACM Inroads, illustrating an article by Amy Briggs and Owen Astrachan entitled The CS Principles Project.